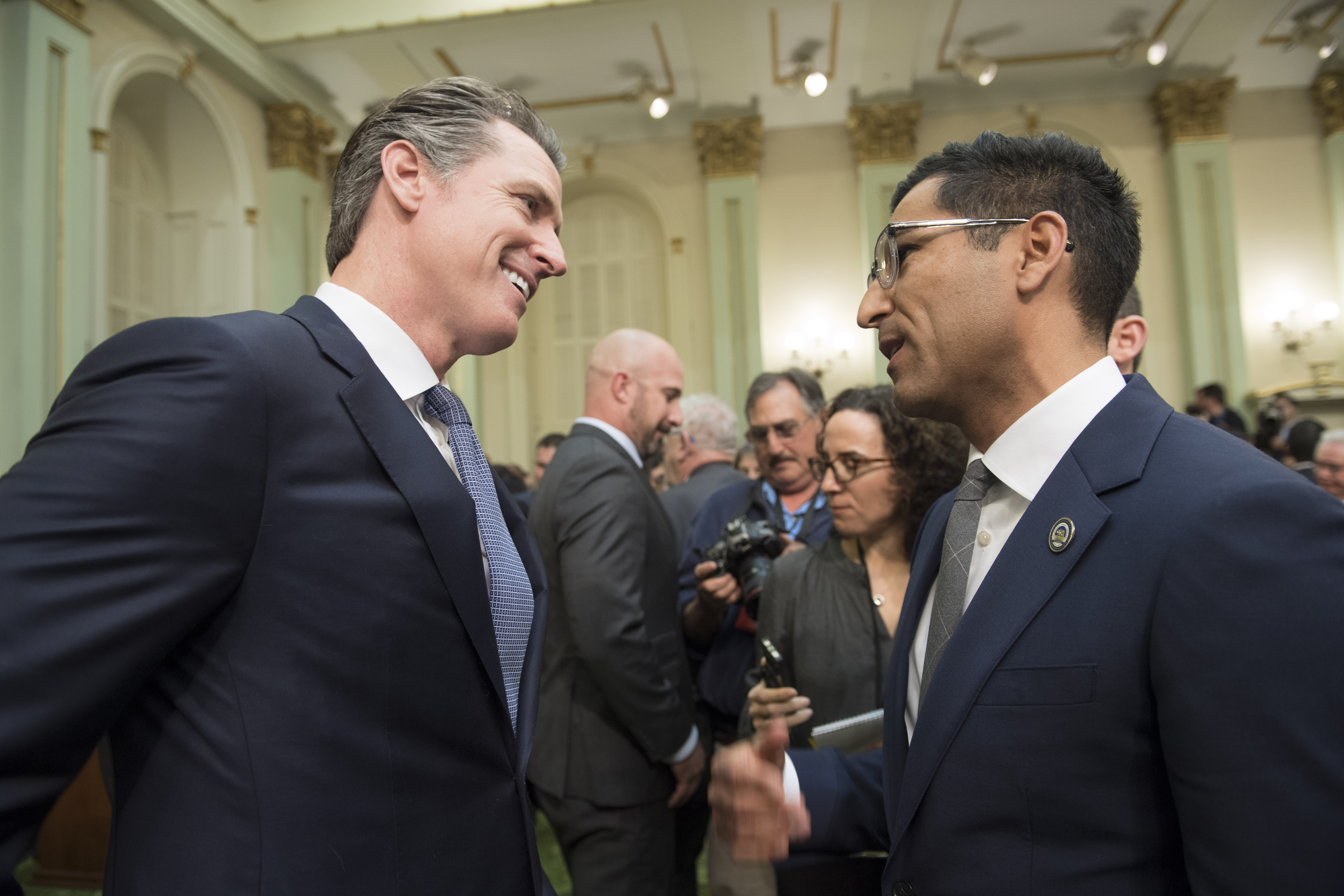 (Photo from February 2019)
SACRAMENTO – Today, Assemblymember Robert Rivas (D-Hollister) released the following statement on the Governor Gavin Newsom's Executive Order N-82-20 that sets a target to conserve 30 percent of California's land and coastal water and instructs his administration to create carbon sequester plans to store in natural and working lands:
"I applaud Governor Newsom for taking this strong action to fight the climate change crisis in California with Executive Order N-82-20. We, as a state, must encourage landowners to be active stewards of our natural and working lands to ensure we are meeting our climate goals and protecting our communities from economic and environmental disasters. The decisions we make today will determine if our wetlands, rangelands, farms, forests, and urban green spaces become an asset or a liability in the fight against climate change.
"The benefits of acting on climate policies now far outweigh the costs, and leading researchers from throughout the world agree: we must maximize methods to capture carbon with our natural and working lands if we are going fend off the worst impacts of climate change and prevent these lands from becoming liabilities instead of assets. Best practices for sequestering or capturing carbon are relatively inexpensive and available to us right now. Our natural and working lands have the potential to contribute up to 17% of California's greenhouse gas reduction goal, as well as providing additional benefits such as improved water and air quality, food production, land conservation, and wildfire prevention. This executive order under the leadership of the Governor is a crucial step for California and our future."
In the Governor's press conference today on the Executive Order, Gov. Newsom acknowledged and thanked Asm. Rivas, along with Assemblymember Ash Kalra (D-San Jose), for authoring legislation this past session that made an "enormous amount of progress in contributing to this debate and to this moment." Asm. Rivas introduced Assembly Bill 2954, which would have required the California Air Resources Board to work in collaboration with other relevant state agencies to identify an overall climate goal for California's natural and working lands and identify pathways to reach our climate goals, closely resembling the Governor's announcement to create strategies for carbon capture and storage.
"We applaud the Governor's actions today to prioritize the climate and biodiversity benefits of California's natural and working lands and to thank Assemblymember Robert Rivas for being a catalyzing force in the legislature," says Jay Ziegler, Director of External Affairs and Policy for The Nature Conservancy, which sponsored AB 2954.  "As we face unavoidable impacts of climate change, the stewardship and conservation of these lands become increasingly critical for protecting our health, livelihoods, and our climate. We look forward to working with the Assemblymember, the legislature, and the Administration to ensure we make progress on this initiative as quickly as possible."
"Today's announcement by Governor Newsom elevates the importance of stewardship of our lands to secure our future," said Policy Director Jeanne Merrill of California Climate and Agriculture Network, which strongly supported AB 2954. "We cannot address the state's profound wildfire risks without addressing the conservation and management of our forests, grasslands, and farmlands.  Nor can we address our pandemic-induced recession without addressing the resilience of California's food and farming systems. We welcome the Governor's focus on climate solutions for agriculture and our natural resources at large."
###