Assembly Housing Working Group Tackles the Region's Housing Crisis, including Critical Needs of Farmworkers and Hospitality Workers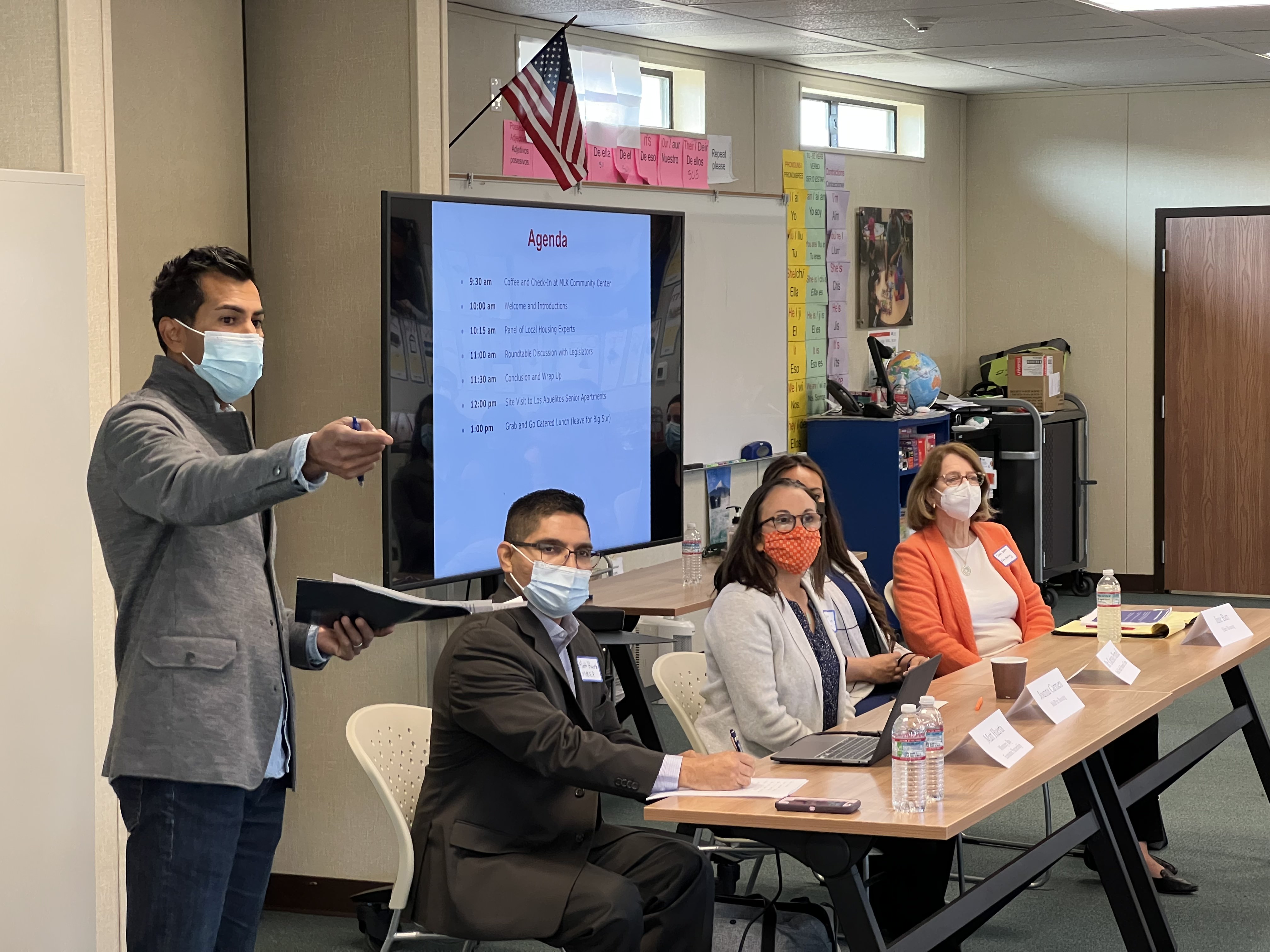 SALINAS—Assemblymember Robert Rivas (D-Salinas) hosted the Assembly Housing Working Group on the Central Coast this week. The group — comprised of legislators and staff from over a dozen Capitol offices — spent two days meeting with local elected officials, housing experts and other stakeholders to discuss the region's housing crisis, critical housing needs for agriculture and hospitality workers, and redevelopment initiatives.
"This housing tour provides opportunities for us to learn about what's working and discuss innovative solutions to our state's housing crisis," said Asm. Rivas. "Our region is an example of how collaboration between key stakeholders and state and local governments can generate results. We are proud to be celebrating this year's legislative achievements, with historic housing investments that include $130 million for safe, affordable farmworker housing—but we must do much more. I am grateful to my colleagues for their commitment to securing housing for all Californians, and I look forward to collaborating on future legislation to address this ongoing crisis."
Day One of the tour included a roundtable discussion hosted by the Monterey Bay Economic Partnership (MBEP) at the MLK Family Resource Center and a tour of CHISPA's Los Abuelitos Senior Apartments in Salinas, prior to a roundtable discussion hosted by the Community Association of Big Sur at Pfeifer Big Sur State Park and a tour of a potential hospitality workforce housing site at the Point Sur Naval Facility (NAVFAC). Day Two of the tour included a roundtable discussion hosted by Housekeys in Morgan Hill and a site visit to Crossings by UHC, an affordable housing development, to learn more about redevelopment and RHNA successes and challenges in suburban Silicon Valley.
"I would like to thank my colleague, Asm. Robert Rivas, for inviting members of the Assembly to hear the housing needs of the constituents of AD 30," said Assembly Majority Leader Eloise Gómez Reyes (D-San Bernardino). "We hear you loud and clear. We must find solutions to the affordable housing crisis in California. Most importantly, we need to provide our families a pathway to home ownership and access to down payment resources. I look forward to working with the Speaker and my colleagues to find pathways for our families when we return to session this upcoming year."
"The homelessness and housing crisis is one of our greatest challenges, requiring us to bring people together to find real and lasting solutions," said Asm. Laura Friedman (D-Glendale). "Each of these tours gives us an opportunity for a deeply informational and solutions-based discussion with local leaders, labor, builders, and tenant and housing advocacy groups."
The Assembly Housing Working Group Central Coast tour was attended by Assembly Members from across the state, including Tim Grayson (D-Concord), Mia Bonta (D-Alameda), Marc Levine (D-Marin County), Chris Ward (D-San Diego), Buffy Wicks (D-Oakland), as well as staff from the offices of Speaker Anthony Rendon (D-Lakewood), Assembly Housing Committee Chair David Chiu (D-San Francisco), Assembly Local Government Committee Chair Cecilia Aguiar-Curry (D-Winters), Jesse Gabriel (D-Woodland Hills), and Dr. Joaquin Arambula (D-Fresno). The Assembly Working Group, led by Assembly Members Grayson and Rivas, is conducting a statewide series of regional roundtables and site visits—planned for the Bay Area, Central Coast, Central Valley, and Southern California—to inform policy ideas that the working group may want to pursue in 2022. 
Download photos of the Central Coast Housing Tour here.
Assembly Housing Working Group Statewide Housing Tour Itinerary
Sept. 27 – Bay Area, Hosts: Asms. Grayson & Wicks

Oct. 4-5 – Central Coast, Host: Asm. Robert Rivas

Oct. 7 – Central Valley, Host: Asm. Arambula     

Oct. 11 – Los Angeles, Host: Asm. Friedman

Oct. 12 – Inland Empire, Host: Majority Leader Asm. Gómez-Reyes

Oct. 13 – Orange County, Host: Asm. Quirk-Silva

Oct. 14 – San Diego, Host: Asm. Ward
###
Assemblymember Robert Rivas (D-Salinas) represents California's 30th Assembly District, which includes all or portions of the cities and towns of Aromas, Big Sur, Chualar, Gilroy, Greenfield, Gonzales, Hollister, King City, Morgan Hill, Salinas, San Martin, San Juan Bautista, Soledad, Spreckels, and Watsonville.