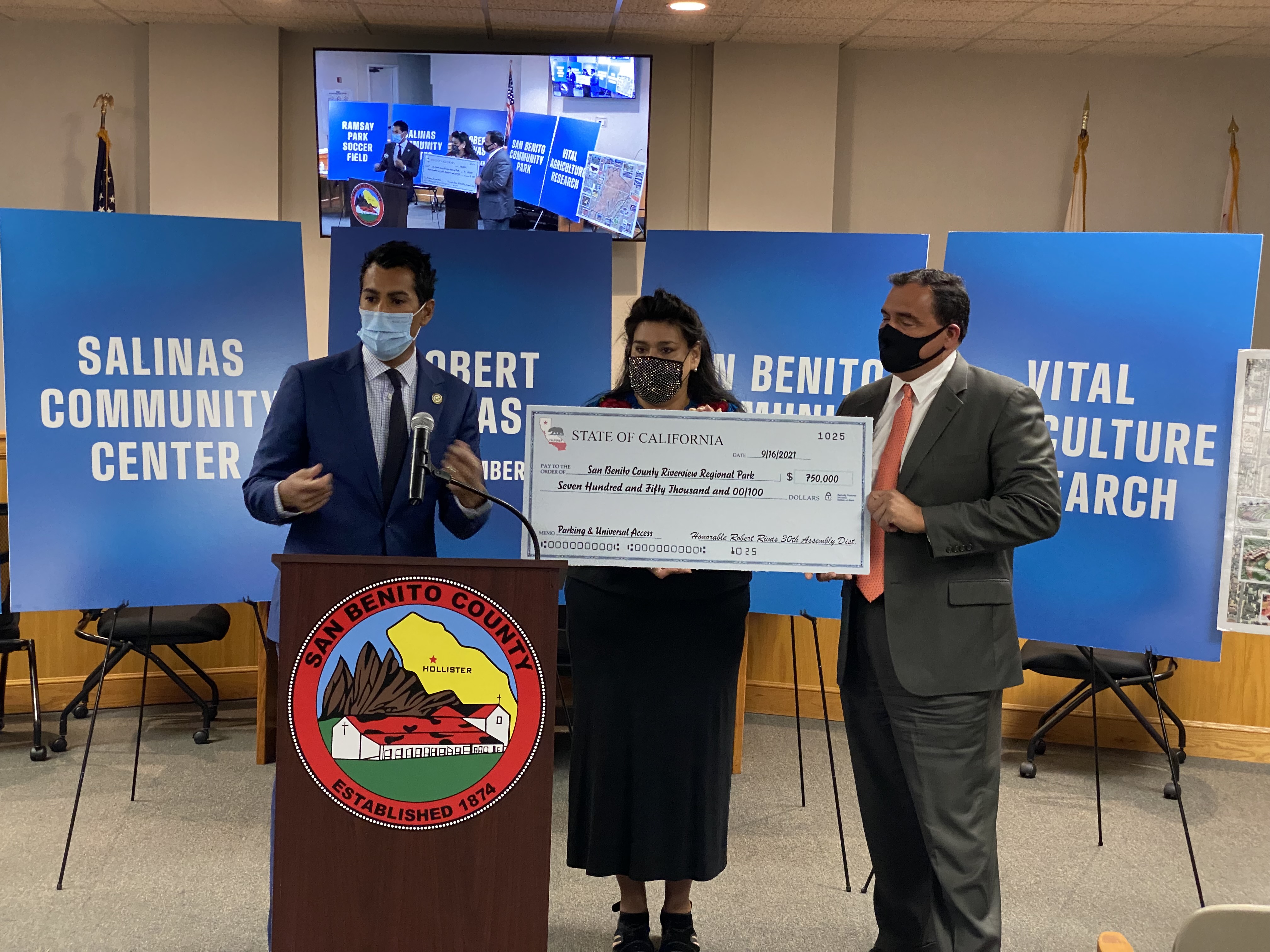 SALINAS – Today, Assemblymember Robert Rivas (D-Salinas) joined San Benito County Supervisor Bea Gonzales and local leaders to celebrate the procurement of $750,000 in the state budget for funding to support the Riverview Regional Park Accessibility Project. 
"The pandemic demonstrated just how important outdoor spaces are – they provide opportunities to exercise and connect that benefit our physical and mental health. Everybody deserves equitable access to these spaces," said Asm. Rivas. "I am grateful to Supervisor Gonzales and San Benito County for their advocacy and collaboration to secure funding for this project. Now all San Benito County residents will be able to enjoy this outdoor space."
"I want to thank Assemblymember Rivas for working with the Board of Supervisors to secure state budget support for the Accessibility Project at Riverview Regional Park," said Supervisor Gonzales. "This park will include 70-acres that create more opportunities for residents to enjoy our beautiful outdoors. It is important that we work to make this park inclusive of all residents and I look forward to the completion of this accessibility project." 
In April 2021, the San Benito County Board of Supervisors and San Benito High School District approved the establishment of the 70-acre Riverview Regional Park on jointly owned property located in Hollister. Currently, the public is using the facility despite the lack of safe parking availability or accessible trailheads. With funding secured, San Benito County will now be able to make necessary improvements to increase inclusivity and accessibility, including an ADA-accessible trailhead and van-accessible parking spots. 
Learn more about the Riverview Regional Park Project at the San Benito County Board of Supervisors' website. 
###
Assemblymember Robert Rivas (D-Salinas) represents California's 30th Assembly District, which includes all or portions of the cities and towns of Aromas, Big Sur, Chualar, Gilroy, Greenfield, Gonzales, Hollister, King City, Morgan Hill, Salinas, San Martin, San Juan Bautista, Soledad, Spreckels, and Watsonville.