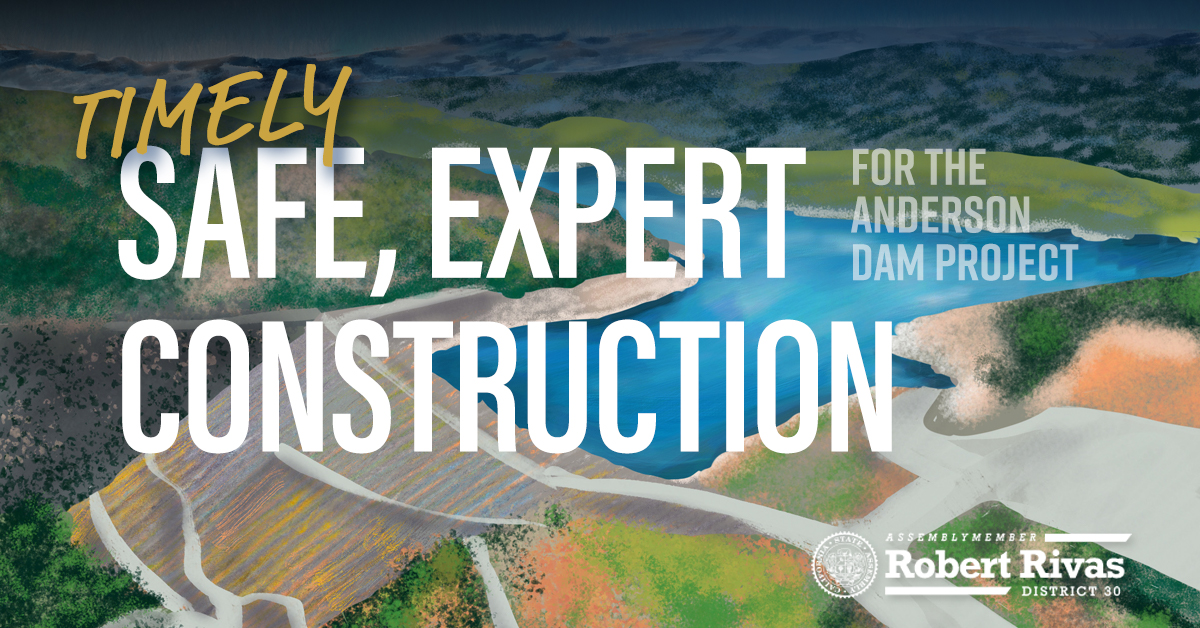 SACRAMENTO – On Friday, July 9, Governor Newsom signed AB 271 and enacted it into law—capping two years of legislative efforts by Assemblymember Robert Rivas (D-Salinas) to ensure the safe, expert, timely seismic retrofit of Anderson Dam in Santa Clara County.  Following last week's official groundbreaking of the Seismic Retrofit Project, AB 271 will authorize Valley Water—the operators of Anderson Dam—to move quickly in hiring the best contractors to ensure the project is completed on time and to the highest professional standards. 
"The Anderson Dam Seismic Retrofit Project is urgently needed to ensure the area's water supply and safeguard neighboring residents and businesses from potential flooding in the event of a major earthquake," said Assemblymember Rivas. "Amid the current climate crisis and spreading drought, I cannot overstate the importance of completing this project at the earliest possible date. Given the seriousness and complexity of the project, AB 271 will allow Valley Water to pick the best firm to construct this project, not the cheapest. This is the second bill I've carried in the Legislature, helping to ensure this critical and long-overdue project is completed in a safe and expeditious manner."
Built in 1950 to the safety standards of the day, Anderson Dam is perched above Silicon Valley, which is home to nearly two million people and is the center of California's technology economy. Experts estimate that a magnitude 7.25 earthquake on the Calaveras Fault centered less than 1.25 miles from the dam, or a magnitude 6.6 earthquake on the Coyote Creek Fault centered beneath the dam, could significantly damage the dam embankment and lead to dam failure and the uncontrolled release of water.
"The Anderson Dam Seismic Retrofit Project is the top priority for Valley Water, not only for public safety but for our local water supply as we face another historic drought," said Tony Estremera, Chair of the Valley Water Board. "On behalf of the Valley Water Board of Directors and the people of Santa Clara County, I would like to express our sincere thanks to Governor Newsom, Assemblymember Rivas, principal co-author Senator Laird (D-Santa Cruz), and to all the co-authors of this bill to ensure the safe and timely completion of this critical public safety and water supply project."
Co-authors of AB 271 include Assemblymembers Ash Kalra (D-San Jose), Mark Stone (D-Monterey Bay) and Marc Berman (D-Menlo Park), and Senator Jim Nielsen (R-Tehama). The bill received bipartisan support in the Legislature, and local support from the region's Congressional delegation, Mayor Rich Constantine of Morgan Hill, and other community leaders.
###
Assemblymember Robert Rivas (D-Salinas) represents California's 30th Assembly District, which includes all or portions of the cities and towns of Aromas, Big Sur, Chualar, Gilroy, Greenfield, Gonzales, Hollister, King City, Morgan Hill, Salinas, San Martin, San Juan Bautista, Soledad, Spreckels, and Watsonville.