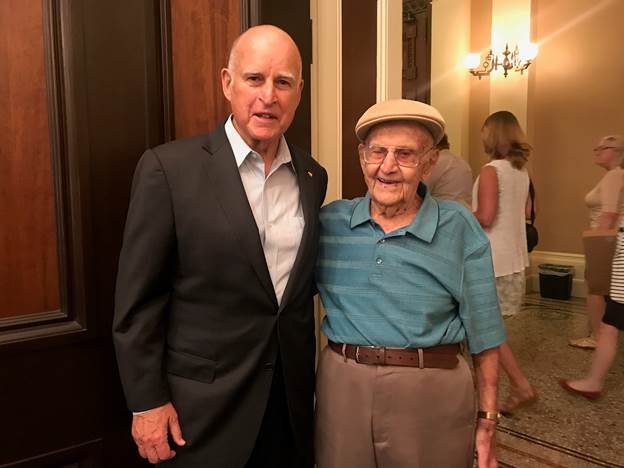 SACRAMENTO — Assembly Speaker Anthony Rendon (D-Lakewood) today honored World War II veteran and Lakewood resident Sam Sachs as the 2017 Veteran of the Year for the 63rd Assembly District.
"Sam helped the world fend off tyranny, then came back home to impact the lives of hundreds of young people as a public school teacher," Speaker Rendon said. "Now in his second century, Sam's bravery, love of his country, and sense of humor continue to be on display for all to see."
Sachs, who recently celebrated his 102nd birthday, joined the U.S. Army at age 17 and served in the 325th Glider Infantry of the 82nd Airborne, which was also known as the Flying Coffins. He landed in Normandy on D-Day and was instrumental in the planning of the invasion with the glider force, overseeing logistics for men, ammunition, food, and transportation. As they moved into Germany, Sachs took part in liberating a concentration camp. After completing his service with the Army, Sachs became a school teacher in Southern California.
Rendon represents the 63rd Assembly District, which includes the cities and communities of Bell, Cudahy, Hawaiian Gardens, Lakewood, North Long Beach, Lynwood, Maywood, Paramount, and South Gate.
Website of Assembly Speaker Anthony Rendon: https://speaker.asmdc.org/
Photos of 2017 Veteran of the Year Sam Sachs with Speaker Rendon and Gov. Jerry Brown.