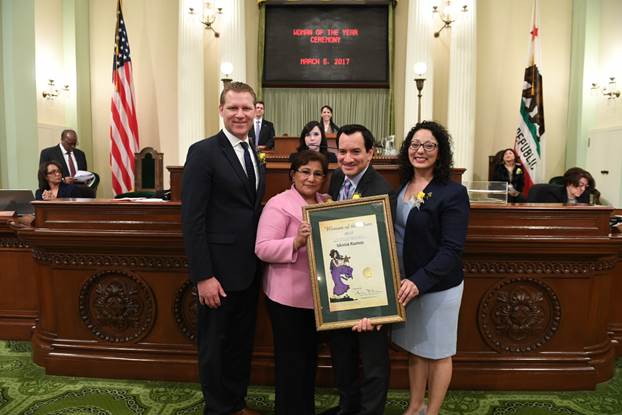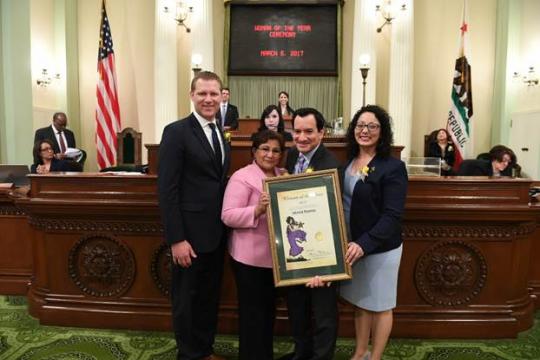 SACRAMENTO — Assembly Speaker Anthony Rendon (D-Paramount) today honored Bell resident Idonia Ramos as the 2017 Woman of the Year for the 63rd Assembly District.
"As a breast cancer survivor, Idonia Ramos is a powerful voice who works to raise cancer awareness in her community and advocate for policies that will help in the fight against cancer," Rendon said. "With more women like her, with more people like her, we can continue to make great strides against all forms of cancer.
Ramos has pursued anti-cancer activism for more than 15 years, since her sister was first diagnosed with breast cancer. Her involvement with the American Cancer Society started on a community level and went on to include legislative action in Sacramento and Washington, D.C. She also participated in Champions of Change at the White House in 2012.
"After my sister was diagnosed with breast cancer, the whole family endured a lot of suffering," Ramos said. "I made a promise to get involved with an organization that powerfully advocated for cancer patients. The American Cancer Society allows me to be a strong voice for those who can't speak for themselves.
Through her activism, Ramos was aware that her sister's diagnosis meant she was at greater risk for breast cancer. Because of that self-awareness, she was diagnosed with breast cancer in 2007, and underwent treatment from 2007 to 2013. Today, she works tirelessly to spread the facts about early cancer detection, a key to successful cancer treatment.
Ramos is a resident of Bell. She is a native of El Salvador and arrived in the United States on Valentine's Day, 1982.
Rendon represents the 63rd Assembly District, which includes the cities and communities of Bell, Cudahy, Hawaiian Gardens, Lakewood, North Long Beach, Lynwood, Maywood, Paramount, and South Gate.
CONTACT: Kevin Liao, (916) 319-2063
Website of Assembly Speaker Anthony Rendon: speaker.asmdc.org