Speaker Rendon Honors Lynwood Resident Larry Esparza as Veteran of the Year

Lynwood Resident Honored as Veteran of the Year by Speaker Rendon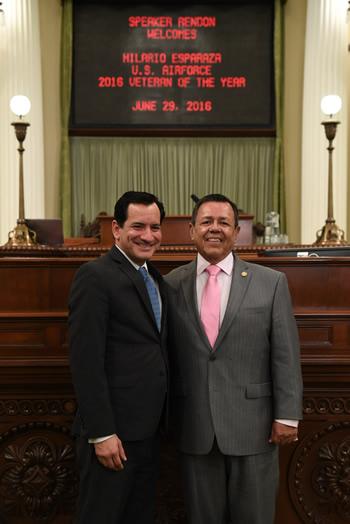 SACRAMENTO— Assembly Speaker Anthony Rendon (D-Paramount) today honored Vietnam War and Middle East veteran and Lynwood resident Hilario Manuel "Larry" Esparza as the 2016 Veteran of the Year for the 63rd Assembly District.
"Larry has always put others ahead of himself, from his service in the Vietnam War and reenlistment to serve in the Middle East to helping people in his community get a new start on life," Speaker Rendon said. "Larry is the epitome of extraordinary service to our country and to our communities."
Esparza served in active duty in the U.S. Air Force from 1968 to 1975, including stints of service in the Vietnam War. Upon leaving the service, he went through training for his Doctor of Chiropractic degree and opened his own medical business in Lynwood in 1986.
Esparza rejoined the service as a reservist in 1989 and served in several major military operations, including Operations Desert Storm and Enduring Freedom. He retired from the reserves in 2009 at the age of 60 and has received numerous awards and recognitions, including the Air Force Commendation Medal in 2003 and Meritorious Service Medal in 2010.
Esparza currently owns a tattoo removal business in Lynwood and is known to provide free services to customers in need. Esparza is a longtime member of Lynwood Rotary Club.
Rendon represents the 63rd Assembly District, which includes the cities and communities of Bell, Cudahy, Hawaiian Gardens, Lakewood, North Long Beach, Lynwood, Maywood, Paramount, and South Gate.
CONTACT: Kevin Liao, (916) 319-2063