Update on Exide Clean-up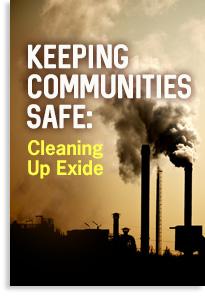 This Thursday, June 9, the Assembly Environmental Safety & Toxic Materials Committee will hold a hearing on lead testing and clean-up in our communities near Exide.
As you may know, the Legislature and Governor recently approved $176.6 million to speed up testing and clean-up efforts in areas surrounding the former Exide battery plant.
This is your opportunity to share your comments and experiences with state officials so we can ensure funds are going to help those in need.
I hope you can attend.
Thursday, June 9
6 - 9 p.m.
Theodore Roosevelt High School Auditorium
456 S. Mathews St.
Los Angeles, CA 90033
Spanish translation will be provided. If you have any questions about lead testing, access agreements with the state, or would like to share any feedback, please contact my office at (562) 529-3250.