California is committed to protecting immigrant rights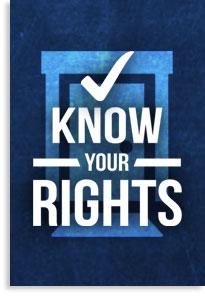 During his campaign for president, Donald Trump made several far-reaching and severe proposals regarding immigration and undocumented immigrants.  In the opening days of his office, he has begun to sign executive orders to fulfill those campaign promises and more are rumored to be on the way. 
Despite this, there are still many questions as to the extent to which these presidential actions are legally binding and we are still awaiting actions by Congress and the courts to determine what specifically it will mean for California and its local jurisdictions.
In the meanwhile, for those that are undocumented or otherwise have questions about their resident status, it is important to know that their rights have not changed.
Since this is a quickly evolving issue, it is important that residents are reassured that the state of California will be closely monitoring the situation and is ready to respond as conditions require. Indeed the Legislature is already in the process of drafting legislation that seeks to preemptively protect California's immigrant population in a number of issue areas.
There are also a host of resources including umbrella organizations and regional service providers across this state that can assist residents facing immigration issues and local state Assembly offices can help you access those resources:
General Questions?
The Coalition for Humane Immigrant Rights of Los Angeles (CHIRLA)
1-888-6CHIRLA, (213) 353-1333
National Immigration Law Center
Los Angeles: (213) 639-3900
Berkeley: (510) 663-8282
American Civil Liberties Union (ACLU)
Northern California: (415) 621-2493
Southern California: (213) 977-9500
San Diego & Imperial Counties: (619) 232-2121
Friends Committee on Legislation of California
Sacramento: (916) 443-3734